Coronavirus (COVID-19) Melbourne News – Updated 13/3/2020
Coronavirus (COVID-19) Melbourne News
LAST UPDATED: 13/3/2020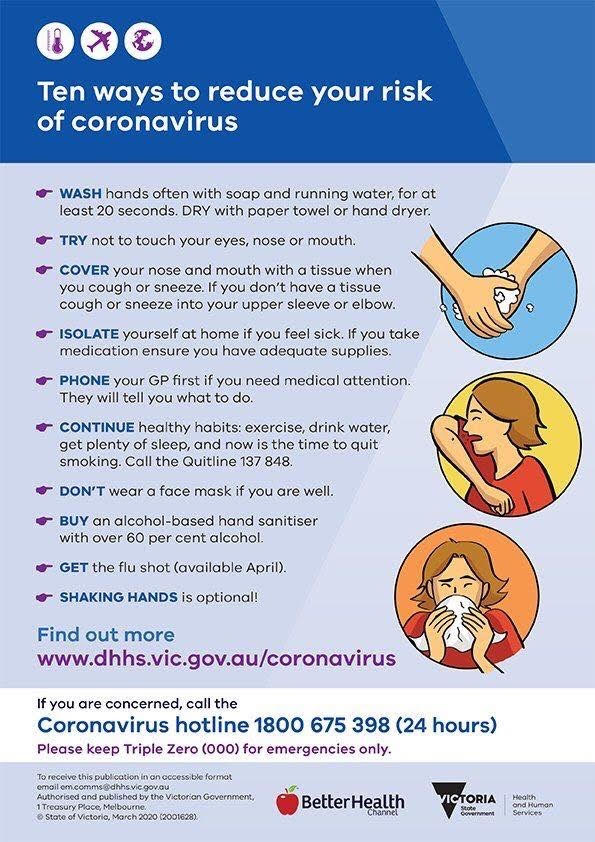 The World Health Organisation has just announced the Coronavirus (COVID-19) a pandemic.
That means that the whole world has now been affected with the virus.  As the number of cases is increasing worldwide, there will be lots of changes in regulation at work places, public places, public events and households.
At the CBD Doctors Melbourne we are carefully monitoring epidemiological situation on a daily basis and modifying our practice to suit both our patients and the community needs.
Majority of cases (80%) only have mild symptoms as a result of the disease and most don't need health interventions.
Mild disease contributes to the high transmissible of the virus (many people would continue to work and interact with others because their symptoms are mild)
Children appear to be less affected than other age groups.
The biggest risk of infection is in elderly and frail, people with other medical conditions (such as diabetes, rheumatoid, cancer and heart disease) as complications of infection are severe and there is a higher potential for a fatal outcome.
The whole Australian Health System is focusing on identifying and early isolation, contact tracing and quarantine people with suspected and confirmed infection. It is overseen and guided by Victorian public health unit.
If the infection spreads widely through the country, we will focus on early detection and home isolation of infected people, to prevent or further infections.
---
No-one can predict how COVID-19 is going to unfold in Australia.
We stay by the recommendation not to travel overseas, to minimize exposure to large group of people (such as public events or group gatherings), washing hands thoroughly, protecting other people from droplets by coughing into your elbow, avoiding kissing and shaking hands and remaining at home if sick.
At CBD Doctors Melbourne we provide telephone consultations, endeavoring to help you if you are sick, are concerned that you may be infected with COVID-19 and require evaluation, and providing advice, sick certificate, reassurances, and the latest guidelines as required.
The Government is introducing the Medicare rebate for consultations related to potential corona virus infection.
Coronavirus testing is also available at the Royal Melbourne Hospital Coronavirus Clinic
Coronavirus Hotline 1800 675 398
If you would like to have an appointment at CBD Doctors Melbourne please call 03 9077 9912
If you would like to have a tele-consult with CBD Doctors Melbourne please use our online booking system
---
If you have arrived from overseas less than two weeks ago, have developed a fever, cough or sore throat, and feel unwell –
you need to call a doctor/clinic first. The government has established clinics for testing for COVID-19. The closest one to our clinic is at the Royal Melbourne Hospital.
Click here for more information regarding the Royal Melbourne Hospital Coronavirus Screening Clinic.
If you get tested,

you will be required to be quarantined for at least 48 hours

, as this is the amount of time it takes to receive results of the swab. If you test positive, you would be required to remain in quarantine for at least two weeks.
If you get short of breath or feel very unwell, or cough up lots of phlegm, you will need to attend a hospital – please call 000 and describe your symptoms.
There is no need to panic.
If you haven't travelled overseas, have not been in contact with someone known to be infected with COVID-19, and if you have symptoms of cold, flu like illness or sore throat, –
please stay at home, self isolate, take Panadol and/or Ibuprofen until you recover. If you develop a productive cough and feel worse please call a doctors surgery before attending. If you are short of breath, call an ambulance.
---
[embedyt] https://www.youtube.com/watch?v=J_RrEGEplCg[/embedyt]
References:
https://www.dhhs.vic.gov.au/sites/default/files/documents/202003/Self%20assessment%20for%20risk%20of%20coronavirus%20COVID-19.pdf
https://www.dhhs.vic.gov.au/victorian-public-coronavirus-disease-covid-19