Managing Back Pain with Physiotherapy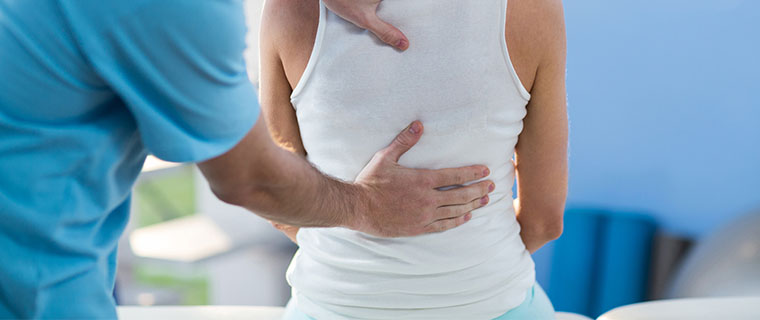 Do you suffer from back pain? 
Have a spinal injury or condition that is not improving?
Did you know that physiotherapy is the cornerstone for any back-related treatment?
Today we present a guest blog post courtesy of physiotherapy group Kieser Australia to address some of these problems… 
The Spinal Program was developed by Kieser to help clients improve their spinal condition either from injury or years of degeneration.
The back problem
Those with back problems often have weak back extensors and so the spine lacks stability. This is more likely to result in facet joint dysfunction and the premature degeneration of structures. The nervous system tries to compensate for this loss of stability by increasing muscle contraction. However, this causes muscle tension and strain and with it, pain. As a result, sufferers tend to reduce their level of activity and this can establish a vicious cycle of pain and inactivity that is known as the cycle of deconditioning.
The social and economic burden of back pain in Australia is well documented. Approximately 80% of Australians will suffer from low back pain at some point in their life and 10% of these people will experience significant disability as a result1. In the 2014-15 National Health Survey, 3.7 million Australians identified as having low back pain for six months or longer in duration2. This is an increase from 3 million in the 2011-12 survey.
Kieser Spinal Program
The Spinal Program by Kieser is a six-week standardised and evidence- based program for clients with low back pain. It includes twelve sessions with a Physiotherapist, largely focused on strengthening of the lower back extensors, abdominals, gluteals and other relevant muscles.
There is clear evidence in the literature that wasting of the multifidus muscle is associated with low back pain3,4. The multifidus does not always recover spontaneously after resolution of pain5, and this in turn is understood to be associated with recurrent episodic or longer-term ongoing back pain3,4,5.
The Lumbar Extenion Machine
The core component of the Spinal Program is the Lumbar Extension machine. The Kieser Lumbar Extension machine has been designed specifically to strengthen the lumbar extensor muscles, using pelvic stabilisation methods to help isolate the extensors during the exercise6. The Lumbar Extension machine has a special restraint system consisting of pelvic roller pad, foot rest, thigh pad and thigh belt. This is designed to ensure that the auxiliary muscles are "deactivated" and the exercise is done solely by the erector spinae muscles. By isolating the muscles, we can target and strengthen the erector spinae. This is why training on our LE machine can be so effective. Research on the Lumbar Extension machine shows that, if used twice a week for six weeks, there will be a significant increase in strength, and significant improvements in both pain and function7,8.
Independence
Once the client has completed the Spinal Program, they are offered the opportunity to continue training at Kieser using our strength & conditioning equipment. We recommend that our clients continue with a general strengthening program in order to prevent recurrence of lower back weakness and pain.
General strength training programs for clients who have completed the Spinal Program include a number of machines to strengthen the entire body. It is important to train the muscles that give the spine extra stability and flexibility. A training program for clients who are recovering from back pain should include, for example, exercises to train the straight and oblique muscles of the abdomen and the pelvic floor muscles. In addition, strengthening the hamstring muscles and hips helps to maintain a good posture and give the back the support it needs.
The Spinal Program at Kieser helps clients with chronic back pain break the cycle of deconditioning to not only recover from pain but to endeavour to prevent it from recurring in the future.
James Cole
Centre Leader and Physiotherapist
Keiser Collins and South Melbourne
References:
1Briggs AM, Buchbinder R. Back Pain: a National Health Priority Area in Australia? Med J Aust. 2009;190(9):499-502.
2Australian Institute of Health and Welfare. Back problems [internet]. Canberra, ACT. AIHW. 2017 [updated 29/08/2017]. Available from: https://www.aihw.gov.au/reports/arthritis-other- musculoskeletal-conditions/back-problems/what-are-back-problems
3Wallwork TL, Stanton WR, Freke M, Hides JA. The effect of chronic low back pain on size and contraction of the lumbar multifidus muscle. Manual Therapy. 2009;14:496-500.
4Steele J, Bruce-Low S, Smith D. A reappraisal of the deconditioning hypothesis in low back pain: a review of evidence from a triumvirate of research methods on specific lumbar extensor deconditioning. Current Medical Research & Opinion. 2014;30(5):865-911.
5Hides JA, Richardson CA, Jull GA. Multifidus muscle recovery is not automatic after resolution of acute, first-episode low back pain. Spine. 1996;21:2763-9.
6San Juan JG, Yaggie JA, Levy S, Mooney V, Udermann B & Mayer JM. Effects of pelvic stabilization on lumbar muscle activity during dynamic exercise. Journal of strength and conditioning research. 2005;19(4):77-81.
7Smith D, Bissell G, Bruce-Low S & Wakefield C. The effect of lumbar extension training with and without pelvic stabilization on lumbar strength and low back pain. Journal of Back and Musculoskeletal Rehabilitation. 2011;24:1-9.
8Steele J, Fitzpatrick A, Bruce-Low S, Fisher J. The effects of set volume during isolated lumbar extension resistance training in recreationally trained males. PeerJ. 2015. 3:e878; DOI 10.7717/ peerj.878