Tested Postive for COVID-19?
Please don't come to CBD Doctors Melbourne if you have any symptoms: a sore throat, runny nose, fever, if you have severe headache, don't feel well, or if you have been in close contact with someone who tested positive to COVID-19.
Please make a telephone or video consultation with one of the doctors. They will arrange a suitable test and treatment for you, including a visit to the clinic.
If you have completed your 7 days of isolation and still have symptoms we encourage to make a telephone or video consultation also.
You may need to do a Rapid Antigen Test (RAT) first.
Close contacts:
Close contacts are defined if you have spent 4 hours or more with someone who has COVID-19 inside of a house, accommodation or care facility.
If you are a close contact, you would need to do the RAT immediately, as soon as you are notified. You will need to stay in isolation and repeat the test on day 6 of your isolation.
Please see below useful links:
1. How to use RAT
https://www.dailymail.co.uk/news/article-10376959/Doctor-reveals-people-getting-false-negatives-rapid-antigen-tests.html
2. What if I test positive to COVID-19
https://theconversation.com/ive-tested-positive-to-covid-what-should-i-do-now-174458?utm_source=facebook&utm_medium=bylinefacebookbutton&fbclid=IwAR3Wq0USq2K0ZnPz30tN7YjyjJzcmDX_MYu0KkWJY41yBWbrk1r0sUKDIx0
Please note: you will need to be in isolation for 7 days. YOU DON'T NEED another  clearance test.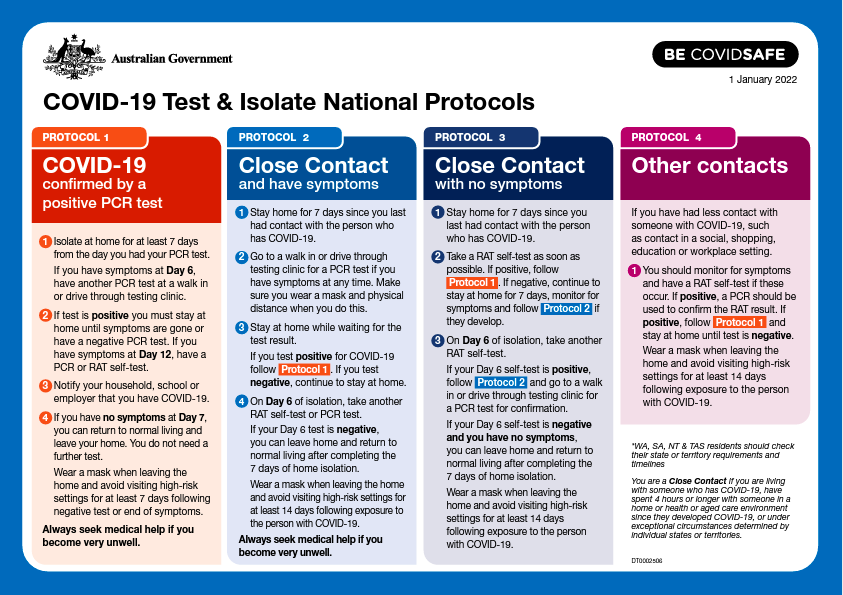 3. What should my contacts do?
https://www.coronavirus.vic.gov.au/checklist-contacts
4. How to upload your RAT  result?
https://dhvicgovau.powerappsportals.com/rapid-antigen-test/
5. How can I get clearance for work after being sick with COVID-19?
At CBD Doctors Melbourne we can provide you with back to work clearance.
If you used a RAT test we require proof.
If you had a PCR test we require laboratory proof. You will need to provide the name and location of the pathology where the test was conducted.
You don't require a second clearance test.
6. What if I had COVID-19 and want to travel overseas?
You will still need a negative COVID-19 PCR test, although you may be a subject of exemption in some cases.
Please note: the requirements may be different. Some countries have special requirements, and some airlines have different requirements.
Etihad Airways:  you MUST have a negative PCR test for check in. NO EXEMPTIONS apply. It means that you need to wait until you are completely free of the virus, and you test negative to COVID-19 PCR.
Qantas: you need to have positive COVID-19 PCR test, complete mandatory 7 days isolation, to be free from symptoms at least 3 days, negative RAT, to have a certificate from a doctor: a letter and special form, filled and signed by a traveller and a doctor.
Majority of airlines that have joined flights with Qantas would accept these forms.
All other airlines will accept a letter of exemption from pre travel COVID-19 PCR. Please check with your airline. These are questions to ask them before booking a consultation with one of the doctors:
What form of a letter they would accept?
How long after they tested positive the letter must be written?
How long before the flight does the letter need to be written?
https://www.qantas.com/au/en/coronavirus/vaccination-exemptions-medical-clearance.html#past-positive-clearance
(Please note different airlines may have different process, this is just a reference)
If you are travelling to India: You MUST have negative PCR test prior to the departure. This is the requirement from the Indian government, not the airline.
7. If you are coming to Australia
You will no longer need a COVID-19 PCR test. RAT will be replacing need for PCR
That means that if you contracted COVID-19 overseas, you could have a negative RAT after you have contracted the virus and spent 7 days in isolation.
"The federal government confirmed on Friday that returning travellers will have the option of completing a rapid antigen test (RAT) within 24 hours before their flight, rather than having to take an expensive PCR test within three days as is currently required.
Travellers who catch COVID-19 overseas will, meanwhile, have the wait time slashed from 14 days before they can fly home to seven days."
Read full article: https://apple.news/AmQqFbr_9Q5Cu9K6sxyVnrw
8. COVID-19 vaccination and booster:
We don't provide any primary immunisation course vaccines or booster vaccines to either adults or children of any ages. Please refer to Victorian Vaccination hubs and local pharmacies.